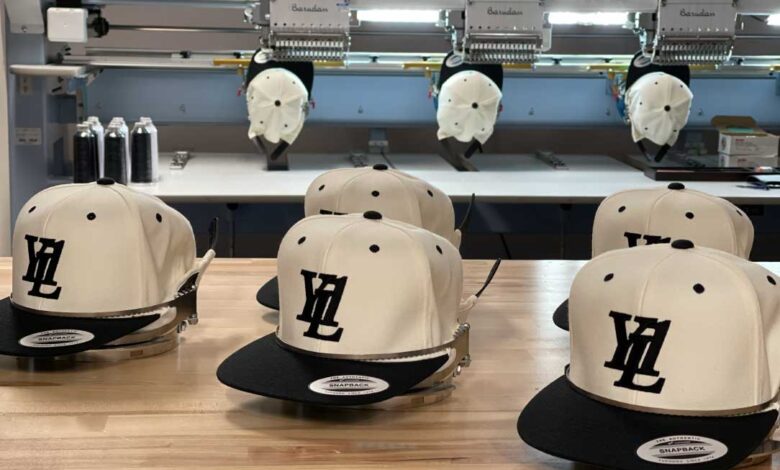 Embroider: Caps, Jackets, Beanies, Polo Shirts, & Bags
Minimum Order:6 Pieces.
3D Puff: +$3/each
Digital Mockups: Review and Approve
Free Setup: at 48 Pieces
Turnaround Time: 12-14 Business Days
Stitched to perfection! Outfitting your team with custom embroidered shirts and hats sets you apart from the competition.
Look good, feel good! Our team of embroidery experts go the extra mile to make sure your custom gear is made to a high standard, and shipped on time. Trusted by hundreds of leading organizations, we pride ourselves on quality, service, and great price points.
Sporting events, family gatherings, and company functions are always more memorable and special with customized merch. Embroidery is good for polo shirts, jackets, hats, beanies, sweatshirts, and even bags and backpacks. Advertise your business and brand, or match with the team, either way embroidery is a winner.
Custom Embroidered Merch. No Hassles.

---
How is the pricing determined?
Embroidery pricing is based on three things: the products you choose, the total stiches involved in your artwork or logo, and the total quantity of items in your order. Don't worry! We've made the pricing process easy.

---

Listed below is our quick price guide based on stitch count: per piece, per imprint location.

Minimum Price Per Location: $3
6-23 pieces: $1.50 per 1000 stitches
24-47 pieces: $1.00 per 1000 stitches
48-143 pieces: $0.85 per 1000 stitches
144+ pieces: $0.75 per 1000 stitches
---
cost example: 24 hats at $5/each + 24 embroidery imprints (5000 stitches) at $5/each = $10 per hat.
Remember: The total cost of embroidery includes the product itself plus the embroidery price. You can view our Blank Apparel & Headwear Catalog to pick your blank garments and headwear.
48 pieces is your sweet spot. The price comes down and the setup fee is waived at 48 pieces. Less than 48 pieces occurs a one-time setup fee of $25 per logo.
---
Stitch Count Examples
Embroidery logos about 2500+ stitches.
Embroidery logos about 5000+ stitches.
Embroidery logos about 10,000+ stitches.
Embroidery logos about 15,000+ stitches.
---
Ready to place your custom embroidery order? Click here to send us your logo!
Placing an order is simple. Send your art files and let us know which products you want to use. We'll send you a payable invoice showing the price with no hidden fees. Once that's paid we create a digital mockup to your specifications and email you to get your approval before going to production.
Embroidery is a unique and intricate art form that requires skill and attention to detail to create beautiful designs. When you buy embroidery from a trusted source, you can be confident that you are getting a high-quality product that will stand the test of time.
---
Our state of the art equipment produces insane quality!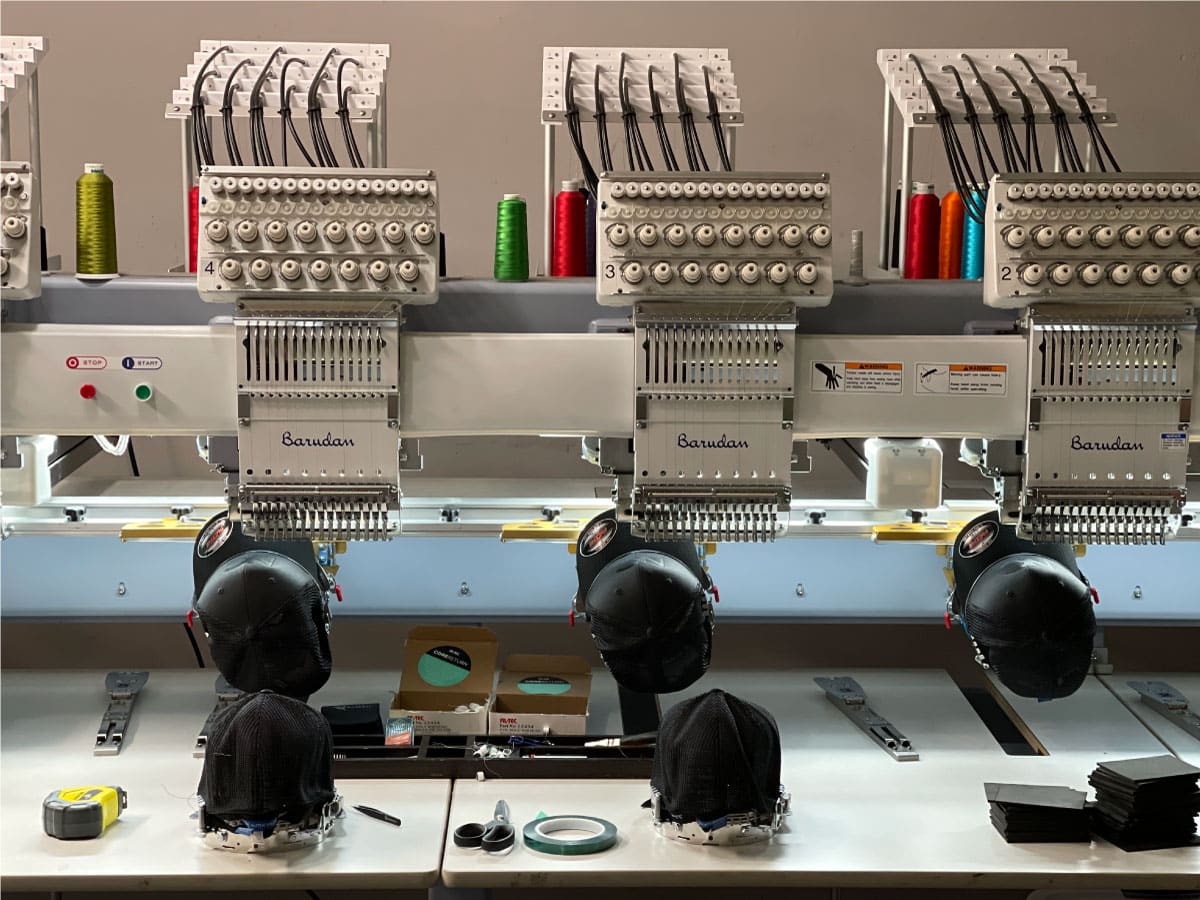 ---
Thread Colors: Fully Stocked
Game Over stocks about 3000 rolls of thread with over 300 different thread colors at all times so we can match your logo colors quickly and easily. The color you need is likely already in stock, but if something special is requested we can order it in. The thread color codes used on your orders are always saved in your file for true consistency when you place a re-order.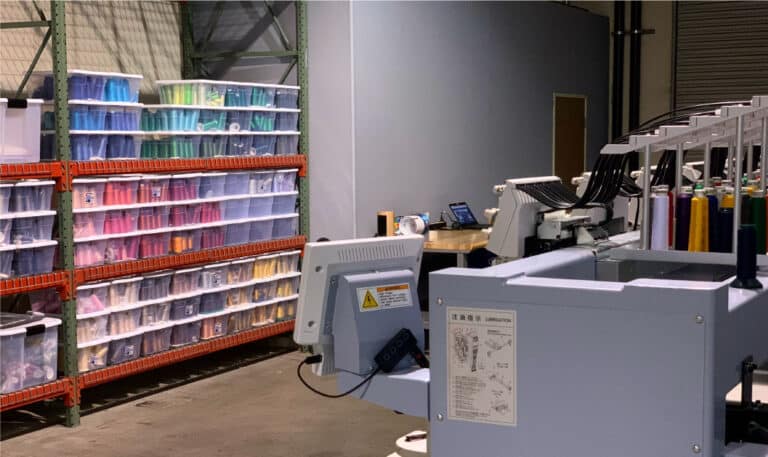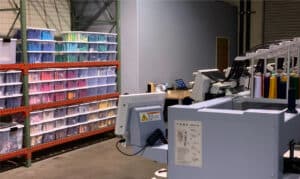 As with most commercial embroidery facilities, our thread stock consist of rayon and polyester. Rayon offers a natural shine and is more silky and soft, whereas polyester has a vibrancy and holds up really well over time. We aim to provide our customers with as many color options as possible, including fluorescent, metallic, and multicolor threads.
Special thread options are available to firefighters, motorsports people, and workers in the industries such as gas, oil, or chemical work in environments where there is a risk of garment ignition. We are able to provide fire-resistant and flame-retardant materials. Our Fire Fighter range consists of fire-retardant technical embroidery products for professional use.
---
Trusted and respected by our community…


















---
3D Puff: Raised Embroidery
Raised embroidery, also known as 3D Puff, is the process of laying a foam-type material underneath the stitches on parts or all of an embroidery imprint. Your design is stitched right over top the foam, and then the remaining foam is peeled off after the design completes. This process gives your product a raised, three dimensional feel and look. You can combine both flat embroidery and 3D Puff on most projects. Take a look at the following examples for inspiration!
3D Puff Embroidery: Add $3 Per Piece
Raised Embroidery: Add $3 Per Piece
---
.DST/.EMB Embroidery Setup Files & Sew-outs
Digitizing is the setup process for embroidery artwork, creating file types like .DST and .EMB. The file is basically the instructions for the embroidery machine, including a total stitch count which determines the cost. It is very important to have a skilled professional create these files, as they directly determine the quality of your embroidery job. A sloppy file will create poor embroidery, but a well built file will produce professional grade results. We create all of our embroidery files in house using professional Wilcom software. This allows us to have complete quality control for your orders, and you can expect clean crisp embroidery every time.
If you order 48 or more pieces we do not charge you a setup fee. Under 48 pieces the setup charge is $25 per logo. These digitized files are created and stored in your personal file forever. Exact repeat orders never require another setup fee.
If you are a decorator or in the print industry, we offer a professional digitizing service to keep your shop sewing! We can digitize your customer's artwork, and send you a real life sew-out so you know exactly how your file will look.


Sales@GameOverMerch.com
---