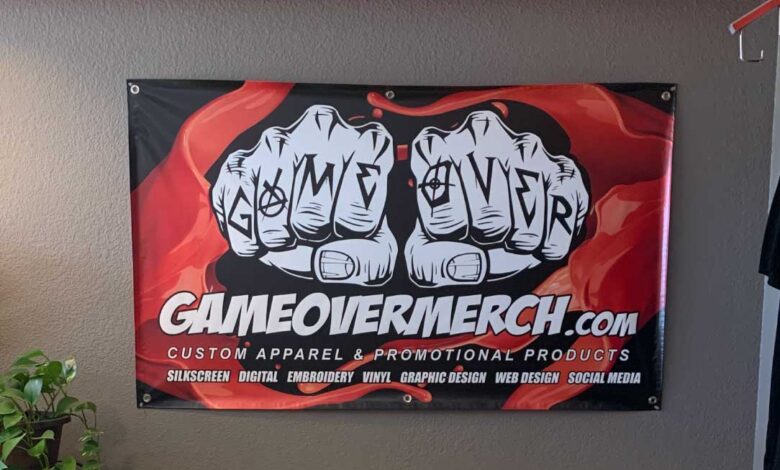 High resolution digitally printed at 720x720
Custom sizes available! Sales@GameOverMerch.com
We do not offer graphic design. Provide a print-ready file.
Double sided available!
Custom printed vinyl banners are an essential marketing tool for businesses and individuals alike. They can be used for events, trade shows, grand openings, everyday signage, and more. At our Las Vegas-based factory, we specialize in producing high-quality custom printed vinyl banners with the fastest turnaround time in the area.
---
---
Benefits of Custom Printed Vinyl Banners
Custom printed vinyl banners offer several benefits that other types of signage cannot match. For example, they are durable, weather-resistant, and versatile, which makes them ideal for both indoor and outdoor use. They are also cost-effective and can be easily customized to suit any business or event.
Fastest Production Turnaround Time
At Game Over, we understand that time is of the essence when it comes to custom printed vinyl banners. That's why we offer the fastest production turnaround time in Las Vegas. We know that many of our customers need their banners quickly, which is why we make it a priority to produce and deliver them as fast as possible.
Customer Artwork and Printing
To ensure that our customers receive the highest quality banners possible, we require that they provide their artwork. Once we receive the artwork, we use our state-of-the-art printing equipment to produce the banners. Our printing process is top-notch and ensures that every banner we produce is of the highest quality.
Vinyl Banners Options and Upgrades
All of our banners are hemmed and come with custom upgrade options like grommets, reinforced corners, velcro, wind slits, rope sewn-in, pole pockets, and d-ring with webbing. Quality and craftsmanship goes into every banner we produce.
Send Your Art, We'll Print Your Banner…FAST
If you're looking for high-quality custom printed vinyl banners with the fastest turnaround time in Las Vegas, look no further than Game Over Merch. We specialize in producing banners that are both durable and visually appealing, and we always deliver them as fast as possible. Contact us today to get started on your custom banner project.
---